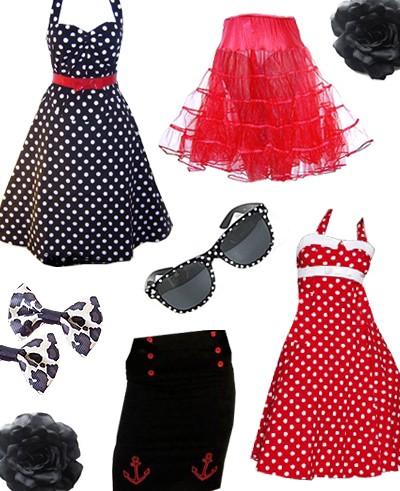 Get the rockabilly look with our fab range of 50s clothing and accessories.
Our 50s style rockabilly polkadot swing dresses come in red or black and are sure to get you noticed! We also have tiered 50s net petticoats in red, white, black and pink to create that fabulous 50s volume under your full circle dress or your 50s style tea length wedding dress!
Complete the rockabilly look with our 50s style accessories, check out our fab kitsch leopard print rockabilly bow hair clips, giant rose corsages, and our retro polkadot wayfarer sunglasses that come in a range of bold colours.
And don't forget to take a look at our sexy rockabilly sailor pencil skirts, an essential for any self respecting rockabilly gal's wardrobe!
Find all of these items at
www.rainbowretro.co.uk
50s fashion, Rockabilly fashion, 50s dress, Swing dress, 50s net petticoat, Polkadot sunglasses, Large rose corsage, Rockabilly pencil skirt, 50s polkadot dress