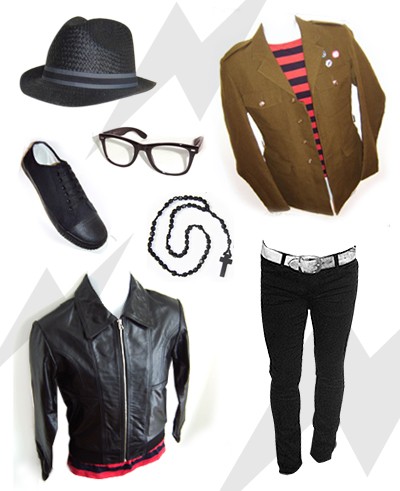 Get ready to face your fans in Rainbow Retro's finest rock star attire!
Our essentials for this look include the absolute classic that is the 70s style skinny black leather bomber jacket, the black straw trilby and black skinny drainpipe jeans.
Accessorise the look with wooden rosary beads, or give it a Jarvis edge with our clear lens geek glasses!
Alternatively, go for a military slant with one of our vintage jackets, and don't forget your black plimsoles!
All these items are available now at
www.rainbowretro.co.uk
Rock star fashion, Indie fashion, 70s bomber jacket, Skinny jeans, Wooden rosary beads, Black straw trilby, Clear lens geek glasses, Military jacket, Black plimsoles